Phrase Mapping
Most of the Quotation systems for Windows & Doors or Millwork have excessive descriptions. It is the most common complaint related to the data that is brought into a POS, ERP, or accounting system.
Saberis has developed a very effective tool to address this problem: Phrase Mapping.
You can create your own Phrase Mapping. For example, "High Performance Glass" could be mapped to HPG. Or, remove a phrase by mapping it to nothing (a blank). Another option is to map phrases to your own terminology, or your customer's terminology.
It is recommended that a few hours be spend to get the basics done, and then as orders are processed over time, add to the Phrase Mapping table.
Look at this as a Find and Replace automated process.
Step-by-Step Setup
Access Phrase Mapping
Under Account Admin, select Modules. Then select the Phrase Mapping for the desired Vendor Module.

Under Settings, select the desired Vendor Module on the left menu. Then find and select the Phase Mapping Option and click on Edit.

Click on Create New

Saberis Support can send you "starter mapping tables" for Marvin OMS and Andersen iQ. These are in the form of Excel documents that you can add to, edit, or delete rows. When you finish your editing, send the Excel back to support@saberis.com and it will be added to your mapping tables within a few days.
Source and Target Values
The Source Value is the phrase coming from the Vendor Quote/Order system.
The Target Value is what you want to send to your ERP/POS system.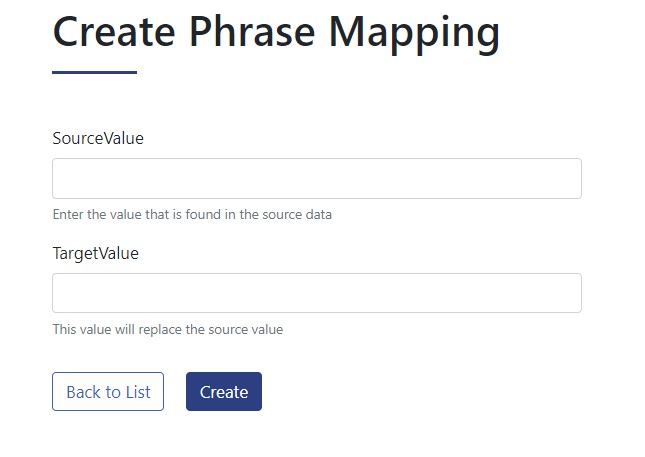 Types of Mapping
There are two types of mapping. One is for abbreviations and the other is to delete complete phrases.
Enter the source phrase and the abbreviated phrase. Then click on Create.

Enter the source phrase to be deleted and leave the TargetValue box blank. Then click on Create.

Your list has been started

If you have more than 100 Phrases to map, or you find this mapping creation tool too time-consuming, you can use Excel and enter the Sourcevalue and TargetValue in 2 columns. Then send the file to support@saberis.com and we will upload it to your account on the SaberisConnect server.